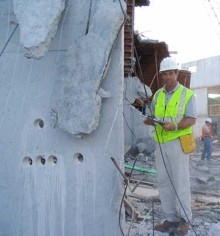 Mr. Seegebrecht has worked in the construction industry for over 35 years.
For the past 30 years, he has been conducting troubleshooting of concrete and shotcrete problems. Problems vary on each project and frequently are a combination of issues. Common concrete problems include: low strength, uncontrolled cracking, air content irregularities. Investigations frequently include examination of fire damage to concrete building elements, spalling, scaling, honeycombing, delamination, debonding and other forms of distress or loss of durability.
Past projects involved evaluation of design, materials and workmanship issues for various structures including: pools and decks, commercial and residential slabs-on-ground, aviation pavements, elevated decks, storage tanks, parking structures, chimneys and many other structures. Consulting on construction issues may include providing input on concrete mixture design, appropriate testing, placing, finishing and curing. Past troubleshooting clients have avoided problems on subsequent projects by discussing potentially problematic specifications requirements before bidding or construction.
George Seegebrecht is an active member and Fellow of the American Concrete Institute (ACI). His committee participation includes member of Committee 301 - Specifications for Structural Concrete, Committee 522-Pervious Concrete, Past Chairman of ACI 680 Adhesive Anchor Installer, member of Committee 610 Field Technician Certification, member of ACI 630 Concrete Construction Special Inspector, and associate member of ACI 506-Shotcrete. He is also a member of the American Shotcrete Association (ASA), the International Concrete Repair Institute (ICRI) and ASTM. George is a licensed professional engineer in multiple states. He is a regular speaker for educational seminars for the Portland Cement Association (PCA) and the University of Wisconsin at Madison. He has presented educational sessions at organizations such as CRSI, CSDA, ICRI, World of Concrete, as well as in-house custom programs generated specifically for various clients.
He currently serves as the Examiner of Record for the Illinois ACI certification program. Visit the ACI Illinois website and go to their Certification tab for sessions scheduled and for details on registration and session locations. See the ACI-IL website at www.aciillinois.com.
Mr. Seegebrecht occasionally partners with other experienced professionals for unique projects.